Having a hot pillow and having to swap it during the night is annoying, wouldn't you agree?
Gone are the days of sleepless night with the help of cooling pillows.
If you haven't used a cooling pillow, you might be wondering why many people love to use it. Basically, a cooling pillow is made up of memory foam or latex pillow that is infused with gel. Imagine yourself floating in the water, that's the exact feeling that a cooling pillow can give. The gel component infused in the cooling pillow gives you a cool and refreshing sensation. Thus, it provides support to your head, neck and shoulders because of its softness.
A good pillow is one of the major contributors in getting a quality sleep. According to a survey conducted by Ergoflex, one of the biggest pillow manufacturers that only 18% of 2,200 participants (men and women) knew they should replace their pillows occasionally. It is vital to change your pillow every six to twelve months to keep yourself physically neat and healthy. Old pillows are harboring mildew, mold, fungus, dust mites and old skin cells that might cause your health in trouble. Many of us do not think that replacing our pillow occasionally is important because we are unconscious and we do not know the harmful effects it can bring to our health especially with our skin.
Another benefit of using a good pillow is you get to sleep well and because a cooling pillow has a gel component inside, it gives a cool experience without sweating at night. According to Dr. Christopher Winter, Medical Director at Charlottesville Neurology & Sleep Medicine, cold room or cold temperature is better for the health of a person. He stated that a cool environment has four benefits – you fall asleep more quickly, you get a better night's sleep, you look more youthful and it decreases your risk for certain metabolic diseases.
Quick Comparison for the Lazy: Best Cooling Pillows
Top 6 Recommended Cooling Pillow reviews
Cooling pillows have gone so far and it revolves from time to time. There are different types of cooling pillows that can suit to the needs of every people. Here are some of the best cooling pillows that will fit to your needs:
Superior Comfort Memory Foam Bed Pillow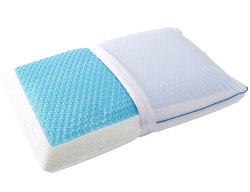 This cooling pillow is an eco-friendly pillow with removable and washable pillow case. It has a standard size of 16 x 24 inches. It has a white cover with blue lining and it is manufactured by Home Fashion Designs. The superior comfort memory foam bed pillow provides an ultimate comfortable sleep experience because of its softness and cool temperature. The memory foam molds to the upper extremities of your body to enforce proper support while the cooling gel maintains a temperature that compliments your body heat for a more comfortable sleeping.
Memory foam – relaxes in reaction to body heat and it molds to a warm body in just a few minutes.
High quality and extremely durable – this feature is helpful to those who are experiencing neck and shoulder pain because this cooling pillow is firm and extremely durable.
Cooling temperature control gel – gives cool temperature to the warm body as it molds completely to the body.
Hypoallergenic, non-toxic and virtually odorless – are the reasons why this cooling pillow can be used by everyone. You don't have to worry if you have sensitive skin type..
Removable and washable cover – you can easily wash the cover of your pillow after using it for a week. The cover pillow is made up of cloth cotton which makes you comfortable to put your face on it.
I was looking for a good supportive pillow because I have chronic neck and shoulder pain. I love the cooling gel feature, it is soooo comforting. I'm so happy with this purchase. I love sleeping on this pillow! – Ellen
Bought this for my mother who has been having night sweats. It has helped. She loves it. I am so happy – Briana
This product is recommended to anyone who wants to have a longer sleep. And because of its special feature of hypoallergenic, this pillow is mostly recommended to those who have sensitive type of skin. It also advisable to use by those people who are getting back, neck and shoulder pain every morning. This is the best gift to your parents or grandparents because this pillow will give them comfortable sleep.

Sleep Master Comfort Gel Pillow
This cooling pillow is reversible which supports its name as a "sleep master pillow". It offers two different surfaces, the cooling gel surface and a memory foam surface. The cooling gel surface has a mesmerizing color of blue and the other side has a clean white color. The size of Sleep Master Comfort Gel Pillow is 24" x 16" x 6" and it fits to any standard-size pillowcase. This product is manufactured by Zinus.
Reversible gel memory foam – it gives you both soft and cool experience at night during sleep hours because you get to choose which surface you will put on your face. You can reverse it to cooling gel layer or the other surface which is the firm and durable memory foam surface.
Highest quality memory foam – is certified by CertiPUR-US for foam durability. Biofoam is the latest evolution of memory foam. It composed of natural plant oil, green tea extract and all natural active charcoal that help absorb moisture, eliminate odors and keep the pillow fresh.
Breathable poly spandex cover – you can breathe well whatever position you will take as you get sleep. The cover of this cooling pillow is removable and can be washed easily.
24" x 16" x 6" measurement – You can choose any pillowcase as the size of this cooling pillow is fit to any standard-size pillowcase.
One feedback from an existing user of this cooling pillow was mentioned at Amazon.com website. Linda is her name and she said she loves it! There are also some reviews online especially those who are new using memory foam saying that it is too firm. Nevertheless, this pillow is one of the top quality cooling pillows because it is a certified memory foam and it has a unique style.
I recommend this cooling pillow to those people who cannot sleep immediately due to hot temperature or due to their flat pillow. This pillow gives you cooling gel surface and the other layer provides durable foam to support your head, neck and shoulders. Thus, you will no longer experience back and neck pain because of its durability. It is also good for those who have problem with their back bones as it is not a flat pillow.
Lux Living Cooling Gel Memory Foam Pillow
This cooling pillow has a molded cover gel surface. It has a unique combination of cooling gel and advanced memory foam work together to develop better circulation while providing exceptional head and neck support. The Lux Living Cooling Gel Memory Foam Pillow is a standard-size pillow so it will easy to replace it with other pillow case. The removable and washable white tencel cover has a silky smooth feel which adds up to a longer, deeper and better sleep at night. The removable cover has a color violet border that makes it more pleasing to the eyes. It is naturally moisture wicking to ensure a perfect temperature, dry, comfortable sleep at night. This cooling pillow is manufactured by Lux-Living
Molded gel bed pillow – is a perfect cover for a gel surface pillow because you can still feel the overall gel surface including its cool temperature in a smoother way.
Purple cooling gel squares – is more pleasing to the eyes and you can sense that it is cooler even by just looking at it.
Advanced memory foam – provides excellent support to your head, neck and shoulders before and after you sleep.
Removable tencel moisture wicking cover – will keep your pillow dry and ensure a perfect temperature while you are sleeping. This feature adds up in getting a perfect sleep every night.
I read a feedback from one of the users of this product at Amazon.com, his name is Andy. He said this cooling pillow was recommended by his friend and he did not hesitate to order it. "I also understood that it was less expensive through Amazon than some other venues. Whatever, it is a great pillow and it has helped my neck, along with my Chiropractor, I feel so much better", he added.
I would recommend this product to those who get easily perspire due to hot weather. You can now enjoy a sweatless night because of its unique removable cover pillow. It exactly fits to each shape of the cooling gel surface of the pillow which provides completely the same temperature.
Cool Gel 5-Inch Memory Foam Pillow
This cooling pillow is perfect to those who want to have a sweet dream. The Cool Gel 5-Inch Memory Foam Pillow will make your dream possible as you get a deeper and comfortable sleep with its cool gel coating. It is a 5-Inch memory foam pillow which enables to support completely your head, neck and shoulders.
Cool get coating – it helps your head cool and temperature regulated while you sleep.
28.5" x 16.9" x 6.5" dimension – this is a bigger pillow that supports your whole shoulders, head and neck. It is a perfect support for those who are having shoulder pain.
Certi-Pur certified shock absorbing memory foam – you head is safe with this shock absorbing memory foam feature of this cooling pillow.
Naturally hypoallergenic – it is safe to use especially to those who have sensitive type of skin. You don't have to worry sneezing at night and you can easily breathe while sleeping.
Todd, one of the existing users of Cool Gel 5-Inch Memory Foam Pillow shared his opinion in using this cooling pillow at Amazon.com. He said, "This pillow is really comfortable. The memory foam is on the firm side, but still contours to my head when I lay down. In the few days that I have had the pillow, I have had some of my best nights of sleep". He also added that he will recommend it to his friends and loved ones.
I recommend this product to those who always encounter pain at their shoulders. This is perfect to those people who have a job that requires physical strength. Your muscle at your back, neck and shoulder can be accommodated by this large dimension cooling pillow. Its durability and cool surface will comfort your tiring and heavy muscles. I will also recommend this to those who love to embrace large pillows. This is your perfect partner at night.
PharMeDoc Cooling Gel Contour Memory Foam Pillow
This cooling pillow will not just give you cool nights but it will also bring healing to your incorrect spinal alignment. The PharMeDoc Cooling Gel Contur Memory Foam Pillow is contoured design that perfectly fit to those who have spinal and back issues. It supports head and neck to promote spinal alignment eliminating aches and pains. Also, it has a removable, washable and hypoallergenic cover that will add up to your deeper and peaceful sleep. The dimension of this pillow is 23" x 4" x 3" and it has a weight of 4.3 pounds.
Lush Aloe Vera cover – sleepless night comes to an end with Aloe Vera technology which makes sleep more reinvigorating for you and your body. Thus, it is zipper removable and machine washable. It is covered with cotton / poly blend which makes washing effortless.
Firm memory foam and Hypoallergenic pillow – this cooling pillow does not just provide explicit support to your head and neck but it also keep from building up undesirable particles such as dust mites and other bacteria.
Contoured design – engineered design to provide ultimate comfort to your body. It targets the problem areas of the head and neck to deliver best possible sleep.
Reversible surfaces – enough of flipping your pillow from time to time. You can have quality sleep with this innovative cooling gel pillow that delivers invigorating sleep while dispersing the heat to your body and eliminate uncomfortable buildup.
One of the existing users shared his insight about this cooling pillow, his name is Bri. She said, "Bought this pillow for my husband who has bulging discs in his neck. He says it is very supportive and he finally can get good night's sleep without waking up feeling worse. We have never noticed a bad/strong smell. And it's not a gimmick; it really does stay cool all night (even though my husband is a human heater)". She even added that it is worth buying for and people should not hesitate in buying this pillow.
This product is perfectly design to those who have neck problems since its engineered form provides excellent support to the head and neck. It also targets the affected areas of our neck and shoulders that need comfort to give best possible sleep. I will also recommend this to those who are getting a hard time in sleeping because the Aloe Vera sense of the cover pillow can attract you to fall asleep quickly.
Iso-Cool Memory Foam Pillow, Gusseted Side Sleeper Standard
Iso-Cool Memory Foam Pillow cooling pillow that is designed to adjust to the body's changing temperature. You read it right, your body will not adjust but your pillow will adjust to your body's temperature. The Outlast Adaptive Comfort material has microscopic PCM beads that absorb heat and feel cool, or release heat and feel warm. It is also made up of 100% cotton. The dimension of this pillow is 16" x 22" x 2" which can support your neck and shoulders. Its color is white and it has a sky blue lining border. Iso-Cool pillow is available into two luxurious fills measures spiral-spun polyester and visco-elastic foam.
Outlast Adaptive Comfort material – this feature makes it unique from the other cooling pillows because it has microscopic Phase Change Material (PCM) that enables the pillow's temperature to adjust with the body's temperature. The PCM beams can sense whether the body's temperature is too cool or too warm.
100% cotton cover – it is soft and removable so you can easily wash and replace the cover.
Visco-elastic memory foam – this is best for side sleepers as this foam is filling in a plush. Its gusseted design means to maximize comfort for side sleepers.
One of the existing users of Iso-Cool pillow testified about his experience in using this memory foam pillow. He said that he's suffering from two herniated cervical disks and he used several memory foam pillows over the years but it did not work for him, though. When he used the Iso-Cool pillow, he was impressed because it was different from his past memory foam pillows and he would recommend it to anyone suffering from the same condition. You can read his whole testimony at Amazon.com.
I will recommend this product to anyone who wants to experience a better sleep whatever weather condition is. You can still complete your sleeping hours even the weather is too hot or too cold because your pillow has a magic of adjusting its own temperature for your body's benefit. I will also recommend this to anyone is encountering the same condition with Yesandno.
Conclusion & Final Verdict
Now we've got to weigh the different kinds of cooling pillows. I know it's hard to choose which one you will buy because each pillow has unique features and benefits. You can start assessing your needs and evaluate the status of your sleep every night. This will help you to identify your needs and to decide what kind of cooling pillow will help you to get a better sleep.
My personal favorite that I use when I'm not testing anything new is the Iso-Cool Memory Foam Pillow, mainly because it has a side sleeper variant that is a bit thinner.
If you don't usually sleep on the side you should choose the Superior Comfort Memory Foam Bed Pillow with Cooling Gel, as it provided the best cooling properties.